LATEST PROJECT
The following are now on their way to the Maternity Unit at Victoria Hospital, Kirkcaldy, Fife, Scotland
184 hats
2 cardigans
3 blankets
Very well done ladies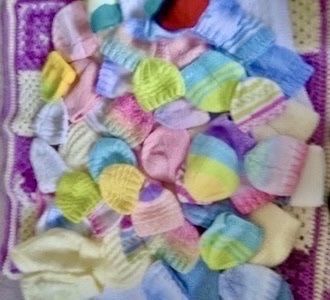 Please note the Wednesday Craft Group is now full.
If you wish to put your name on the Waiting List you will find it on the Club Notice Board or contact
DBAC
The 'crafters' meet in the clubhouse on a Wednesday, 10am - 12 noon (unless otherwise stated).
The aim is to have craft specific led sessions twice a month as per programme below, with the other weekly sessions for finishing off and for doing your own projects
Craft Programme - Spring 2020
Jan 8th - Finger Puppets - Sue
Jan 15th - Playing card holder - Karen
Jan 22nd - Finger Puppets cont. - Sue
Jan 29th - UFO's
Feb 5th - Knitted / Crocheted fruit and veg
Feb 12th - UFO's
Feb 19th - Patchwork project - Jean
Feb 26th - UFO's
Mar 4th - Night Lights
Mar 11th - UFO's
Mar 18th - Tapestry Project
Mar 25th - UFO's
Apr 1st - Bird mosaic
If you have any ideas or could offer a session please contact
SUE MASSON
Ongoing -
Blankets and Quilts for
Project Linus
The art club craft class make and knit items for the key [16238122] doesn't exist
baby unit
at Victoria Hospital, Kirkcaldy.